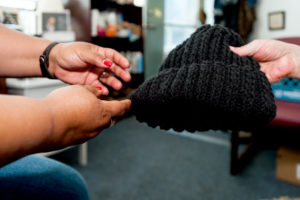 Stuff. You probably have drawers of things that you don't really need. We all do!
It's good stuff. Stuff you use every day. But you bought it on sale and forgot you bought it on sale and now you're swimming in it. Maybe you collected it from a hotel you stayed at. All those little sample sizes are perfect for people who have to carry everything they own in a backpack.
Collecting these things can make for a pretty exciting group project. Imagine how many disposable razors or toothbrushes your school or group could collect!
Homeless people need the things we all take for granted. Thank you for helping ease the burden of someone who is simply struggling to survive.
Current needs
To supplement our hot meals, we need ready-to-eat, shelf-stable (no refrigeration needed,) individually-wrapped foods like:
Bottled water (around 8 oz. is preferred)
Juice (single-sized cans, pouches, or boxes)
Protein bars
Cereal bars
Chewy granola bars
Fruit snacks
Fruit cups
Trail mix (individually packaged)
Cheese-n-cracker snacks (individually wrapped)
Cheese sticks (we can easily refrigerate these)
Wrapped candy
Cookies and pastries (individually bagged)
Whole individual fruit (apples, oranges, bananas – not sliced)
Contact our office to schedule a drop-off:
206-323-4359 or info@seattlenightwatch.org
Shipping address:
1265 S. Main St. #300, Seattle, WA 98144
Our homeless friends can use small-sized items such as
Toothbrushes & toothpaste
Deodorant
Lotion
Lip balm
Shave cream
Hand sanitizers
Cough drops
Pain relievers
Ear plugs
Chewy granola bars
Work gloves
Socks
Our Senior Housing residents always appreciate:
Gift certificates
Event tickets
QFC gift cards
Baked goods
Juice
Napkins
Plates
Cooking oil
Spices – especially salt & pepper
Liquid hand soap
Body wash
Shampoo
Toothpaste & toothbrushes
Deodorant
Wash cloths
Socks
To help us engage with folks on the street, we need:
Socks
Single-serve bottled water
Granola bars (chewy)
Cereal bars
Fruit snacks
Drop-off instructions and inquiries
Please contact us with any questions, or to schedule a drop-off.
206-323-4359
info@seattlenightwatch.org
Address
302 14th Ave S, Seattle, WA 98144
Street parking is available in front of the building and on surrounding streets.
Tip: in front of our building, 14th Ave. S is a one-way street headed north.