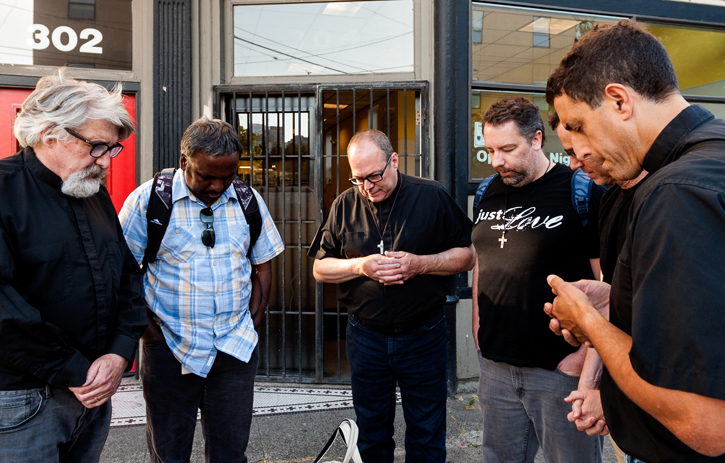 One of the best things about Nightwatch is the diversity of people who gather around the mission — "to reduce the impact of poverty and homelessness, in keeping with Jesus' teaching to love our neighbors."
The faith of the individuals who make up Nightwatch – as volunteers, donors, workers, tenants, and homeless neighbors – is as varied in form and expression as could be imagined. A long time ago, Nightwatch decided it could not define that faith. So we keep it simple. If you are good with loving your neighbor, you are welcome. No statement of faith required. All are welcome. We are Catholic, Presbyterian, Methodist, Episcopalian, Baptist, and undecided.
In the spirit of generosity, we invite you to pray as you are led.
Current prayer requests
Please pray with us…
Injustice
Look with pity, O Lord, upon the people in this community who live with injustice as their constant companion. Help us to eliminate cruelty to our neighbors. Strengthen those who spend their lives establishing equal protection of the law and equal opportunities for all. And grant that every one of us may enjoy a fair portion of the riches of this land; through Jesus Christ our Lord. Amen.
Racial Harmony
Tonight, O Lord, we see the impacts of hatred and prejudice toward people of other races. We recognize that we have failed to love our neighbors as we love ourselves. We have tolerated hatred and injustice in our hearts, our homes, and our community. Forgive us, and grant us amendment of life and healing for all. Amen.
Poverty
Almighty God, we remember those living in poverty in this community. Help us to heal those who are broken in body or spirit, and to turn their sorrow into joy. Grant this, Father, for the love of your Son, who for our sake became poor, Jesus Christ our Lord. Amen.